1981 – 1994 Yamaha XV535-1100 Owners Workshop Manual – PDF DOWNLOAD
DESCRIPTION:
1981 – 1994 Yamaha XV535-1100 Owners Workshop Manual – PDF DOWNLOAD

Acknowledgements
Our thanks to Mitsui Machinery Sales (UK) Ltd for permission to reproduce certain illustrations used in this manual. We would also like to thank NGK Spark Plugs (UK) Ltd for supplying the color spark plug condition photos and the Avon Rubber Company for supplying information on tire fitting.
Special thanks to Grand Prix Kawasaki/Yamaha, Santa Clara, California, for providing the facilities used for these photographs; to Mark Woodward, service manager, for arranging the facilities and fitting the mechanical work into his shop's busy schedule; and to Denny Jewell, service technician, for doing the mechanical work and providing valuable technical information,

About this manual
Its purpose The purpose of this manual is to help you get the best value from your motorcycle. It can do so in several ways. It can help you decide what work must be done, even if you choose to have it done by a dealer service department or a repair shop; it provides information and procedures for routine maintenance and servicing; and it offers diagnostic and repair procedures to follow when trouble occurs.
We hope you use the manual to tackle the work yourself. For many simpler jobs, doing it yourself may be quicker than arranging an appointment to get the vehicle into a shop and making the trips to leave it and pick it up. More importantly, a lot of money can be saved by avoiding the expense the shop must pass on to you to cover its labor and overhead costs. An added benefit is the sense of satisfaction and accomplishment that you feel after doing the job yourself.
Introduction to the Yamaha XV
The Yamaha XV (Virago) series are highly successful and popular cruiser-style motorcycles. The engine on all models is an air-cooled, V-twin with overhead camshafts. . Fuel is delivered to the cylinders by two Hitachi or Mikuni carburetors; XV535, XV1000 and XV1100 models use an electric fuel pump.
The front suspension uses a pair of conventional forks, adjustable by varying the fork air pressure on some models. Fork damping is adjustable on XV920 J models.
The rear suspension on 1981 through 1983 models uses a single shock absorber and coil spring. Later models use twin rear shock absorbers with concentric coil springs. Spring preload is adjustable on all XV700 through 1100 models; shock absorber damping is adjustable on 1984 and later XV700 through 1100 models.
The front brake uses a single or dual disc; a drum brake is used at the rear. Shaft final drive is used on most of the bikes covered in this manual. Some models use an unusual chain drive system, with the chain completely enclosed in housings and running in a bath of grease
TABLE OF CONTENTS:
1981 – 1994 Yamaha XV535-1100 Owners Workshop Manual – PDF DOWNLOAD
Contents
Introductory pages
About this manual 0-6
Introduction to the Yamaha XV 0-6
Identification numbers 0-7
Buying parts 0-8
General specifications 0-8
Maintenance techniques, tools and working facilities 0-11
Safety first! 0-17
Motorcycle chemicals and lubricants 0-18
Troubleshooting 0-19
Chapter 1
Tune-up and routine maintenance 1-1
Chapter 2 Part A
Engine, clutch and transmission (XV535 models) 2A-1
Chapter 2 Part B
Engine, clutch and transmission (XV700 through 1100 models) 2B-1
Chapter 3 Part A
Fuel and exhaust systems (XV535 models) 3A-1
Chapter 3 Part B
Fuel and exhaust systems (XV700 through 1100 models) 3B-1
Chapter 4 Part A
Ignition system (XV535 models) 4A-1
Chapter 4 Part B
Ignition system (XV700 through 1100 models) 4B-1
Chapter 5 Part A
Steering, suspension and final drive (XV535 models) 5A-1
Chapter 5 Part B
Steering, suspension and final drive (XV700 through 1100 models) 5B-1
Chapter 6 Part A
Brakes, wheels and tires (XV535 models) 6A-1
Chapter 6 Part B
Brakes, wheels and tires (XV700 through 1100 models) 6B-1
Chapter 7 Part A
Frame and bodywork (XV535 models) 7A-1
Chapter 7 Part B
Frame and bodywork (XV700 through 1100 models) 7B-1
Chapter 8 Part A
Electrical system (XV535 models) 8A-1
Chapter 8 Part B
Electrical system (XV700 through 1100 models) 8B-1
Chapter 9
Wiring diagrams 9-1
Conversion factors
VIDEO PREVIEW OF THE MANUAL:
IMAGES PREVIEW OF THE MANUAL: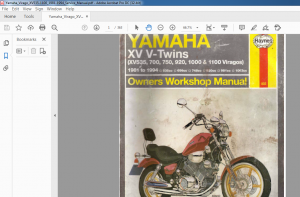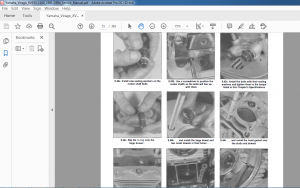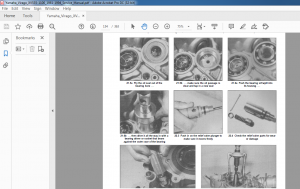 PLEASE NOTE:
This is the SAME exact manual used by your dealers to fix your vehicle.
The same can be yours in the next 2-3 mins as you will be directed to the download page immediately after paying for the manual.
Any queries / doubts regarding your purchase, please feel free to contact [email protected]
S.M