1983-1995 Yamaha T80 Townmate Service Repair Manual
FILE DETAILS:
1983-1995 Yamaha T80 Townmate Service Repair Manual
LANGUAGE:ENGLISH
PAGES:127
DOWNLOADABLE:YES
FILE TYPE:PDF
VIDEO PREVIEW OF THE MANUAL:
IMAGES PREVIEW OF THE MANUAL: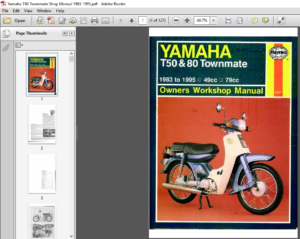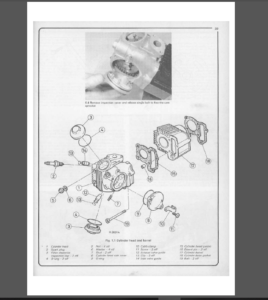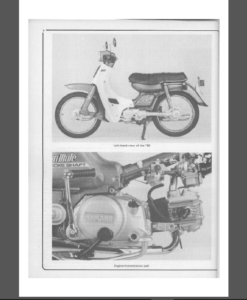 DESCRIPTION:
1983-1995 Yamaha T80 Townmate Service Repair Manual
The purpose of this manual is to present the owner With a concise And graphic guide which will enable him to, tackle any operation from Basic routine maintenance to a major overhaul it has been assumed that any work would be undertaken without the luxury of a well-equipped workslmp and a range of manufacturer's service tools.
the machine featured in the manual was stripped and rebuilt in Our own workshop. by a team comprising a mechanic, 6 Photographer and the authors The resulting photographic sequence Depicts events as they took place; the hands shown being those oi the author and the mechanic.
The use of specialised. and expensive. service tools was avoided Inless their use was considered to he essentialdue to risk of breakage or injury. There is usually some way of impotrising a method of removing a stubborn component, providing that a suitable degree of care is exercised The author learnt Motorcycle mechanics over a number of years. faced with the same difficulties and using similar facilities to those encountered by most owners it is hoped that this practical experience can be pasSed on through the pages 'or' this manual.
Where possible a well-used exempts of the machine iachoaontm the workshop project. as this highlights any areas. which might be Particularty prone to giving rise to problems. In this way, any such Difficulties are encountered and resolved before the text is written. and the techniques used to deal withhem "can be incorporated in the relevant section. Armed with a working knowledge of the machine. the author undertakes a considerable amount of research in Order that the Maximum amount of data can be included in the manual.
TABLE OF CONTENTS:
1983-1995 Yamaha T80 Townmate Service Repair Manual
Introductory pages
About this manual
Introduction to the Yamaha T50 and 80 models
Dimensions and weights
Ordering spare parts
Safety first
Tools and working facilities
Choosing and fitting accessories
Fault diagnosis
Routine maintenance
Chapter 1
Engine and transmission
Chapter 2
Fuel system and lubrication
Chapter 3
Ignition system
Chapter 4
Frame and suspension
Chapter 5
Wheels. brakes and tyres
Chapter 6
EleCtrical system
Wiring diagram
Conversion factors
index
PLEASE NOTE:
⦁ This is the same manual used by the DEALERSHIPS to SERVICE your vehicle.
⦁ The manual can be all yours – Once payment is complete, you will be taken to the download page from where you can download the manual. All in 2-5 minutes time!!
⦁ Need any other service / repair / parts manual, please feel free to contact us at heydownloadss @gmail.com . We may surprise you with a nice offer