1984 Yamaha YFM200N DXS DXT U Service Manual
FILE DETAILS:
1984 Yamaha YFM200N DXS DXT U Service Manual 
Language: English
Size: 69.3 MB
Pages: 149
Format: PDF
Downloadable: YES
IMAGES PREVIEW OF THE MANUAL: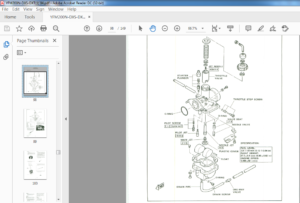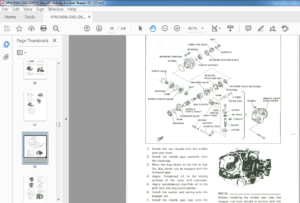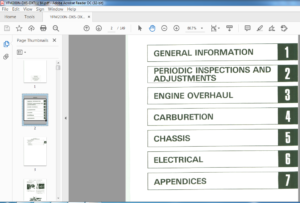 VIDEO PREVIEW OF THE MANUAL:
DESCRIPTION:
1984 Yamaha YFM200N DXS DXT U Service Manual 
INTRODUCTION:
This chapter includes all information necessary to perform recommended inspections and ad- justments. These preventive maintenance procedures, if followed, will ensure more reliable vehi- cle Operation and a longer service life. The need for costly overhaul work will be greatly reduced. This information applies to vehicles already in service and to new vehicles that are being prepared for sale. All service technicians should be familiar with this entire chapter.
MAINTENANCE INTERVALS CHARTS :The following charts should be considered strictly as a guide to general maintenance and lubrica- tion intervals. You must take into consideration the weather, terrain, geographical location, and a variety of individual uses. This time schedule should be altered to match individual owner's requirements. For example, if the machine is continually Operated in an area of high humidity, then all parts must be lubricated much more frequently that shown on the chart to avoid damage caused by water to metal parts.
TABLE OF CONTENTS:
1984 Yamaha YFM200N DXS DXT U Service Manual 
GENERAL INFORMATION

PERIODIC INSPECTIONS AND ADJUSTMENTS

ENGINE OVERHAUL

CARBURETION

CHASSIS

ELECTRICAL

APPENDICES
PLEASE NOTE:
This is the SAME manual used by the dealers to troubleshoot any faults in your vehicle. This can be yours in 2 minutes after the payment is made.
Contact us at [email protected] should you have any queries before your purchase or that you need any other service / repair / parts operators manual.