Fiat Allis FD30C Crawler Dozer Service Manual
FILE DETAILS:
Fiat Allis FD30C Crawler Dozer Service Manual
Size: 32.9 MB
Format: PDF
Language: English
Brand: Fiat
Type of machine: Dozer
Type of document: Service Manual
Model: Fiat Allis FD30C Crawler Dozer
Number of Pages: 333 pages
Print No.: 60402251
DESCRIPTION:
Fiat Allis FD30C Crawler Dozer Service Manual
GENERALITIES
Before operating or performing any intervention on the machine:
read carefully all the rules contained by this Manual;
 read and obey all safety related plates and in- structions located on the machine.
Do not allow unauthorized personnel to operate service or maintain this machine.
Do not wear rings. wrist watches. Jewellery. loose or hanging apparels, such as ties, torn clothing, scarves. un bottoned or unzipped jackets that can catch on moving parts.Wear proper safety equipment as recommended for thejob. Examples: hard hat, heavy gloves. ear protection, safety glasses or goggles, reflector vests, respirator. Consult your employer for specific safety equipment requirements.
Keep operator's compartment. stepping points, grabrails and handles clear of foreign objects, oil, grease, mud or snow accumulation to minimize the danger of slipping or stumbling. Clean mud or grease from shoes before attempting to mount or operate the machine.
Do not jump on or off the machine. Keep two hands and one foot, or two feet and one hand in contact with step grab rails and handless at all times. – Do not use controls or hoses as hand holds when climbing on or machine. Hoses and controls are movable and do not provide a solid support. Controls also may be advertently moved causing accidental machine or equipment movement.
Never attempt to operate the machine orits tools from any position other than seated in the opera- tor's seat. – Keep head, body. limbs. hands and feet inside operator's compartment at all times to reduce exposure to hazards outside the operator's compartment.
STARTING :
 NEVER START OR OPERATE AN UNSAFE MACHINE. Before operating a machine. always ensure that any unsafe condition has been satisfactorily remedied.
 Check brakes. steering and attachment controls before moving. Advise the proper maintenance authority of any malfunctioning part or system. – Be sure all protective guards or panels are in place. and all safety devices provided are In place and in good operating conditions.
Be sure exposed persmnel in the area of opera- tion are clear of the machine before moving it or its attachments. WALK COMPLETELY AROUND the machine before mounting.Sound horn. Obey flag man, safety signals and signs. – Before starting machine, check, adjust and lock the operator's seat for maximum comfort and control of the machine.
Fasten your seat belt (when provided)
OPERATION:
Do not run the engine of this machine in closed areas without proper ventilation to remove deadly exhaust gases.
Roll Over Protective Structures are required on loaders. dozers. graders, excavators. NEVER OPERATE machines without ROPS.
Make sure the Operator's compartment is free of foreign objects. especially it firmly secured. Never use the machine to transport objects, unless proper securing points are provided.
Check monitoring instruments at start-up and frequently during operation if the pressure gauge sugnais a pressure lower than the minimum operative value. stop immediately the machine.
DO NOT CARRY RIDERS ON MACHINE .
Study and familiarize with escape routes afternate to normal exit routes.
Seat belts are required to be provided with Roll Over Protection Structures or cabs. Keep safety belts fastened around you during operation.
TABLE OF CONTENTS:
Fiat Allis FD30C Crawler Dozer Service Manual
Section 1 – Technical Data and Generalities
Section 2 — Cab
Section 3 — Engine
Section 4 — Transmission
Section 5 – Steering Clutches and Brakes
Section 6 – Bevel Gear
Section 7 – Side Final Drives
Section 8 – Hydraulic Circuit
Section 9 – Undercarriage
Section 10 – Electrical System
VIDEO PREVIEW OF THE MANUAL:
IMAGES PREVIEW OF THE MANUAL: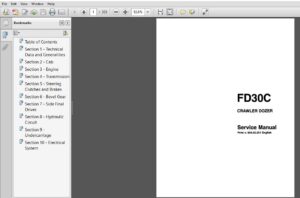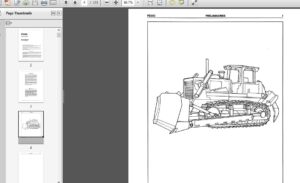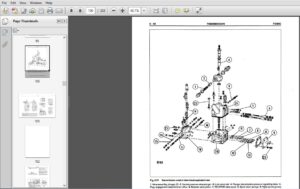 PLEASE NOTE:
This is the SAME manual used by the dealers to troubleshoot any faults in your vehicle. This can be yours in 2 minutes after the payment is made.
Contact us at [email protected] should you have any queries before your purchase or that you need any other service / repair / parts operators manual.