Fiat Allis FR30 FR35 WHEEL LOADERS IMPLEMENT & STEERING SYSTEM SERVICE MANUAL
FILE DETAILS:
Fiat Allis FR30 FR35 WHEEL LOADERS IMPLEMENT & STEERING SYSTEM SERVICE MANUAL
Size: 14.7 MB
Format: PDF
Language: English
Brand: Fiat
Type of machine: Wheel Loader
Type of document: Service Manual
Number of Pages: 98 pages
Complete Part No.: 73148732
DESCRIPTION:
Fiat Allis FR30 FR35 WHEEL LOADERS IMPLEMENT & STEERING SYSTEM SERVICE MANUAL
GENERAL INFORMATION:
Study the Operation and Maintenance Instructor Manual be- fore starting, operalmg, maintaining, 'ueing or servicing machine. Road and heed all machine-mounted 8slaty signs betore Slatting, oparsing, maintaining, luting or servicing machine Machine-moonted safety signs hava baan color codad yaltow wsh black bordar and lattaring for WARNING and rad with wMe bordar and latterng for DANGER points.
Never attampt to oparata tha machina or is toots from any position other than seated in tha operator's seat Keep head, body, limbs, hands and feat inside operator's compartment at ail times to reduce exposure to hazards outside the operator's compartment. Do not allow unauthorized personnel to oparata service or maintain this machine. Always check work area for dangerous features.
The follow- ing are examples ot dangerous work areas: slopas, over hangs, timber, demoiibons. fire, hgh walls, drop off, back fils, rough terrain. ditches, ridges, excavations, heavy traffic, crowded parking, crowded maintenance and closed areas. Usa extreme care when in areas such as these. An operator must know the machine's capabilities. When working on slopes or near drop ofls be alert to avoid loose or soft conditions that could cause sudden tipping or loss of control.
Do not jump on or off machine. Keep two hands and one toot, or two feat and one hand, in contact with slept grab rails and handles at *11 times. Do not use controls or hoses as hand holds when climbing on or oil machete. Hoses and controls are movable and do not provida a solid support. Controls also may be inadvartantfy moved causing accidental machine or equipment movement.
Keeo operator's compartment, stepping points, grab-rails and handles clear ot foreign objects, oil. grease, mud or snow accumulation to minimize the danger ot slipping or stumbling. Clean mud or grease from shoes before attempting to mount or operate the machine. Be careful of slippery conditions on stepping points, hand rails, and on the ground. Wear safety boots or shoes that have a hagh sip resistant sole material.
For your personal protection. Do not attempt so dimb on or oil machine wrtiile machine is in motion. Never leave the machine unattended with the engine running. Always lock up machina when leaving It unattended. Return keys to authorized security. Heed aO shut down procedures ol the Operation and Maintenance Instruction Manual. Always set the parking brake when leaving the machine lor any reason.
Do not wear rings. wrist watches, jewelry. oose or hangmg apparoi, such as has. lorn ctathvig, scarvas. unbuttoned or unzipped jackets that can caich on moving parts. Wear prooer satety equipment as authorized tor the job.
Examples hard hats, safety shoes, heavy gloves, ear projectors, safety glasses or goggles, reflector vests, or resonators. Consult your employer for spectic safety equipment tequirements. Do not carry loose ob.ects in pockets that might (all unnoticed into open compartments. Do not use machine to carry loose objects by means other than attachments fot carrying such objects DO NOT CARRY RlDERSun
machines equipped for carrying people to reduce personal exposure to being thrown off. Do not operate machinery in a condition of extreme fatigue or illness. Be especially careful towards the end of the shift. Roll Over Protective Structure# are required on wheel load- ers. dozer tractors, track type loaders, graders and scrapers by local or national requirements. DO NOT operate this machine without a Rol Over Protective Structure.
Do not operate a machine without a falling object protective structure (FOPS). Do not operate tha machine without a rear canopy screen when machine is equipped with rear mourned towing winch. Seal belts are required to be provided with rollover protective structure* or rofl protection cabs by local or rational regula- tions. Keep the safety belt fastened around you during operation.
VIDEO PREVIEW OF THE MANUAL:
IMAGES PREVIEW OF THE MANUAL: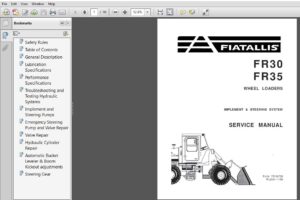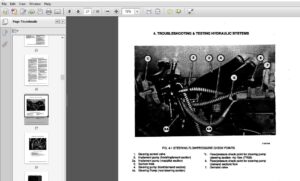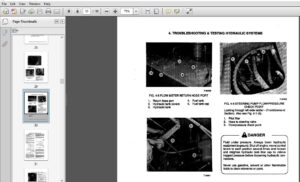 TABLE OF CONTENTS:
Fiat Allis FR30 FR35 WHEEL LOADERS IMPLEMENT & STEERING SYSTEM SERVICE MANUAL
Safety Rules 4
Table of Contents 11
General Description 15
Lubrication Specifications 18
Performance Specifications 19
Troubleshooting and Testing Hydraulic Systems 20
Implement and Steering Pumps 36
Emergency Steering Pump and Valve Repair 47
Valve Repair 52
Hydraulic Cylinder Repair 69
Automatic Bucket Leveler & Boom Kickout adjustments 81
Steering Gear 82
PLEASE NOTE:
⦁ This is the SAME manual used by the dealers to troubleshoot any faults in your vehicle. This can be yours in 2 minutes after the payment is made.
⦁ Contact us at [email protected] should you have any queries before your purchase or that you need any other service / repair / parts operators manual.