Hitachi AH250-D AH300-D Articulated Dump Truck Service Manual
FILE DETAILS:
Hitachi AH250-D AH300-D Articulated Dump Truck Service Manual 
Language : English
Pages : 533
Downloadable : YES
Format : PDF
Serial No. 003362 and up
DESCRIPTION:
Hitachi AH250-D AH300-D Articulated Dump Truck Service Manual 
INTRODUCTION:
Read this manual carefully for it has been produced to assist you in the correct operation, maintenance and care of your HITACHI machine. Failure to do so could result in personnel injury or equipment damage. Right and left hand sides are determined by facing in the direction of forward travel. Warranty is provided as part of HITACHI support program for customers who operate and maintain their equipment as described in this manual.
The warranty is explained on the warranty certificate which you should have received from your dealer. Should the equipment be abused, or modified to change its performance beyond the original factory specifications, the warranty will become void and field improvements may be denied. This manual is divided into chapters.
The information contained in the manual is in logical sequence, with the instructions written in step by step format. Effective maintenance on your HITACHI machine is achieved when personnel fully understand the information contained in this manual. Every effort has been made to ensure that the information contained in this manual was correct at the time of publication.
HITACHI  has a policy of continuous product development, improvement, and design. HITACHI , reserves the right to change, amend and update the design of its product at any time without prior notice. With this policy, changes may have occurred that are not included in this manual.
Whilst every endeavour has been made to provide accurate and reliable information, HITACHI Co. specifically disclaims any actual or implied warranty and under no circumstances shall be liable for any loss, damage or injury to person or property suffered, whether direct, indirect or consequential, arising from the use of this manual.
In particular and without detracting from above, the disclaimer also applies in the event of any specification, warning, or representation contained in this manual being inadequate, inaccurate, or unintentionally misleading.
The user is urged to strictly comply with the instructions and warnings that are given in the interests of general safety. Please do not hesitate to contact your HITACHI Product Support Representative whenever you have a query on your HITACHI product or this manual.
TABLE OF CONTENTS:
Hitachi AH250-D AH300-D Articulated Dump Truck Service Manual 
SAFETY 13
SAFETY FEATURES 13
GENERAL SAFETY 14
SAFETY REGULATION 15
SAFETY DECALS 21
CHAPTER 1 OPERATIONAL CHECK-OUT PROCEDURE 47
OPERATIONAL CHECK-OUT 47
OPERATIONAL CHECKS – KEY SWITCH ON, ENGINE OFF 47
CHAPTER 2 ENGINE 53
SECTION 1 THEORY OF OPERATION 53
ENGINE 53
SECTION 2 DIAGNOSE ENGINE MALFUNCTIONS 57
SECTION 3 ADJUSTMENTS 59
DISPLAY MENU TACHOMETER 59
SLOW AND FAST IDLE ADJUSTMENT 59
VALVE CLEARANCE ADJUSTMENT 59
EXHAUST BRAKE ADJUSTMENT 60
SECTION 4 TESTS 61
CYLINDER COMPRESSION TEST 61
FUEL PUMP PRESSURE TEST 62
FUEL RETURN FLOW QUANTITY AT ENGINE TEST 63
FUEL SYSTEM LOW PRESSURE FUEL CIRCUIT LEAK TEST 65
OIL PUMP PRESSURE TEST 66
CAN BUS J1939 69
WHAT EXACTLY IS A "CAN BUS" 69
CANBUS 71
TESTING THE "CANBUS" 73
CHECKING THE CABLES 73
CHECKING OPENS, SHORTS BETWEEN WIRES AND SHORTS TO GROUND ON THE CAN
HARNESS 74
MAIN "CAN" HARNESS 74
"CAN" SHORT TO GROUND 75
REVISION 0 37
"CAN "OPEN CIRCUIT 76
"CAN" SHORT TO POSITIVE 0 -24 VOLTS 77
CHAPTER 3 ELECTRICAL SYSTEM 79
SECTION 1 SYSTEM INFORMATION 79
ELECTRICAL SCHEMATIC SYMBOLS 79
CHASSIS CONTROL UNIT (CCU & OEU) 80
MDU2 (MONITOR DISPLAY UNIT) 81
MDU2 LAYOUT 82
MDU2 INPUT AND OUTPUTS 83
RELAY 85
START-UP DISPLAY 86
DEFAULT SCREEN 86
DEFAULT SCREEN 86
DEFAULT SCREEN 86
DEFAULT SCREEN 86
DEFAULT SCREEN 87
TO GO TO MAIN MENU FROM DEFAULT SCREEN 87
MAIN MENU 87
EXPLANATION OF WIRE MARKINGS 92
SECTION 2 DESCRIPTION OF CIRCUITS 125
SSM 137
MDU2 WARNING LIGHTS 148
MDU2 GAUGES 152
CCU2 OUTPUT SPECIFICATION 153
OEU OUTPUT SPECIFICATION 157
SECTION 3 REFERENCES 161
PART 1 ENGINE FAULT CODES (ADM) 161
PART 1: ENGINE FAULT CODES (PLD-MR) 166
PART 2 DM1 FAULT CODES 192
Service Code Diagnostics – Electronic Unit Injector (EUI) Controller 209
SECTION 4 TESTS 211
KEY SWITCH TEST 211
RELAYS 211
Diode Test 212
Pneumatic System Solenoids, Pressure Switches, and Sensor Tests 213
TABLE OF CONTENTS
38 REVISION 0
Steering Column Switch Test 218
CHAPTER 4 TRANSMISSION ZF 6 HP 592 C PLUS 231
SECTION 1 THEORY OF OPERATION 231
GENERAL DESCRIPTIONS 231
STALL SPEEDS 238
PLANETARY GEARS AND POWER FLOWS 240
THE BASIC LAWS OF PLANETARY GEAR SETS 241
ECOMAT TRANSMISSION PLANETARY CONFIGURATION 242
TRANSMISSION CLUTCH CONFIGURATION 243
TRANSMISSION CROSS SECTIONAL DIAGRAM 245
POWER FLOW 247
HYDRAULIC SYSTEM 257
VALVE SCHEMATIC 259
VALVE SCHEMATIC 260
HYDRAULIC PRESSURES 261
PRESSURE CHART 262
RETARDER 263
RETARDER LEVER 264
ZF GEAR SHIFT CONTROL LEVER 265
INTERNAL SOLENOIDS 271
REMOVE VALVE BODY 273
RENEWING SENSORS 274
EXTERNSL SOLENOIDS 282
DIAGNOSTIC CODES 283
ELECTRONIC CONTROL SYSTEM 283
WIRING HARNESSES 287
RANGE / SHIFT TESTS 287
DO NOT SHIFT LIGHT 288
SECTION 2 DIAGNOSTIC INFORMATION 289
DIAGNOSTIC PROCEDURE 289
DIAGNOSE POWER TRAIN SYSTEM MALFUNCTIONS 290
CHECK THE TRANSMISSION FLUID LEVEL 302
TRANSMISSION CONTROL UNIT ERROR CODES 303
REVISION 0 39
TABLE OF CONTENTS
TABLE OF ERROR CODES 304
SECTION 3 ADJUSTMENTS AND TESTS 327
TRANSMISSION WARM-UP PROCEDURE 327
CHAPTER 5 PNEUMATIC SYSTEM 331
SECTION 1 THEORY OF OPERATION 331
PNEUMATIC SYSTEM OPERATION 331
PNEUMATIC SYSTEM SCHEMATIC 332
SECTION 2 DIAGNOSTIC INFORMATION 343
DIAGNOSTIC PROCEDURE 343
DIAGNOSE PNEUMATIC SYSTEM MALFUNCTIONS 344
SECTION 3 ADJUSTMENTS AND TESTS 346
PNEUMATIC SYSTEM MAIN PRESSURE TEST AND ADJUSTMENT 346
PARK BRAKE PRESSURE TEST 347
PARK BRAKE ADJUSTMENT 348
GRAMMER SEAT FUNCTIONAL TEST 350
CHAPTER 6 HYDRAULIC SYSTEM 351
SECTION 1 THEORY OF OPERATION 351
ARTICULATED DUMP TRUCK HYDRAULIC SYSTEM OPERATION 351
SECTION 2 DIAGNOSTIC INFORMATION 385
DIAGNOSTIC PROCEDURE 385
DIAGNOSE HYDRAULIC SYSTEM MALFUNCTIONS 386
SECTION 3 TESTS 399
JT05800 DIGITAL THERMOMETER INSTALLATION 399
JT02156A DIGITAL ANALOGUE PRESSURE/TEMPERATURE ANALYSER INSTALLATION 399
HYDRAULIC OIL CLEANUP PROCEDURE USING PORTABLE FILTER CADDY 399
HYDRAULIC SYSTEM WARM-UP PROCEDURE 400
CYCLE TIME TEST 401
MAIN HYDRAULIC PUMP RESIDUAL AND COMPENSATOR VALVES TEST AND ADJUSTMENT
402
SYSTEM RELIEF VALVE AND BIN RAISE CIRCUIT RELIEF VALVE TEST 404
PRIORITY VALVE TEST 405
ACCUMULATOR PRESSURE REDUCING VALVE TEST AND ADJUSTMENT 405
BRAKE ACCUMULATOR CHARGE VALVE TEST AND ADJUSTMENT 406
BRAKE LOW PRESSURE SWITCH AND BRAKE ACCUMULATOR TEST 407
FRONT AND REAR BRAKE ACCUMULATORS PRESSURE TEST AND CHARGE PROCEDURE
408
SERVICE BRAKE VALVE TEST 409
STEERING RELIEF VALVE PRESSURE TEST AND ADJUSTMENT 410
40 REVISION 0
TABLE OF CONTENTS
STEERING CYLINDER LEAKAGE TEST 410
SECONDARY STEERING PUMP RESIDUAL AND COMPENSATOR VALVES TEST AND
ADJUSTMENT 411
BIN LOWER CIRCUIT RELIEF VALVE TEST 412
CHAPTER 7 HEATING AND AIR CONDITIONING 413
SECTION 1 THEORY OF OPERATION 413
AIR CONDITIONING SYSTEM CYCLE OF OPERATION 413
HEATER CORE OPERATION 414
SECTION 2 DIAGNOSTIC INFORMATION 415
DIAGNOSE AIR CONDITIONING SYSTEM MALFUNCTIONS 415
HEATING/AIR CONDITIONING COMPONENT LOCATION 417
SECTION 3 TESTS 419
AIR CONDITIONING OPERATIONAL CHECKS 419
R134A AIR CONDITIONING SYSTEM TEST 420
OPERATING PRESSURE DIAGNOSTIC CHART 421
A/C FREEZE CONTROL SWITCH TEST 423
A/C COMPRESSOR CLUTCH TEST 423
A/C HIGH/LOW PRESSURE SWITCH TEST 423
A/C EXPANSION VALVE TEST 424
EXPANSION VALVE BENCH TEST 425
REFRIGERANT LEAK TEST 426
CHAPTER 8 MAINTENANCE SCHEDULES 429
NOTES: 432
CHAPTER 9 DAILY OR 10 HOURLY SERVICE CHECKS 433
CHAPTER 10 150 HOURS SERVICE AND CHECKS 435
SECTION 1 DRIVE TRAIN 435
INTRODUCTION 435
SERVICE INSTRUCTIONS 435
LOWER AND RAISE THE BELLY PLATE 435
CHAPTER 11 500 HOURS SERVICE AND CHECKS 439
SECTION 1 DRIVE TRAIN 439
INTRODUCTION 439
SERVICE INSTRUCTIONS 439
ENGINE 439
TRANSMISSION 440
BRAKES 443
REVISION 0 41
TABLE OF CONTENTS
TRANSFER CASE 444
SECTION 2 CLEAN, CHECK AND REPLACE BREATHERS 445
GENERAL CHECK DRIVE LINE & SUSPENSION FASTENERS 445
TRANSFER CASE BREATHER (LOCATED UNDER THE HYDRAULIC RESERVOIR) 445
TRANSMISSION BREATHER AND AXLE BREATHERS 445
SECTION 3 CAB AND ELECTRICAL 447
INSPECT, CLEAN AND REPLACE CAB AIR FILTER 447
CHECK BATTERIES, CLEAN AND TIGHTEN TERMINALS 448
CHECK ELECTRICAL CONNECTORS, HARNESSES AND LOOMS 448
CHECK WORK LIGHTS, REVERSE BUZZER AND HORNS 448
RECORD & DELETE FAULT CODES ON THE MDU 448
CHECK THE OPERATOR CONTROLS AND INSTRUMENTS 448
SECTION 4 LUBRICATION 449
GREASE ALL GREASE POINTS 449
HYDRAULICS 450
REPLACE HYDRAULIC RESERVOIR BREATHER 450
CHAPTER 12 1 000 HOURS SERVICE AND CHECKS 453
SECTION 1 DRIVE TRAIN 453
INTRODUCTION 453
SERVICE INSTRUCTIONS 453
Engine 453
SECTION 2 HYDRAULICS AND LUBRICATION 457
REPLACE HYDRAULIC RESERVOIR BREATHER 457
SECTION 4 AXLES AND CHASSIS & SUSPENSION 459
CHECK AXLE OIL LEVEL 459
CHECK FINAL DRIVE OIL LEVELS 459
CHECK BIN SHOCK PAD CLEARANCE 459
CHAPTER 13 2 000 HOURS SERVICE AND CHECKS 461
SECTION 1 DRIVE TRAIN 461
INTRODUCTION 461
SERVICE INSTRUCTIONS 461
ENGINE 461
SECTION 2 HYDRAULICS AND LUBRICATION 467
REPLACE HYDRAULIC OIL RETURN FILTER 467
SECTION 3 CAB, PNEUMATICS AND ELECTRICAL 469
REPLACE PNEUMATIC SYSTEM DRYER FILTER 469
CHAPTER 14 3 000 HOURS SERVICE AND CHECKS 471
42 REVISION 0
TABLE OF CONTENTS
SECTION 1 DRIVE TRAIN 471
INTRODUCTION 471
SERVICE INSTRUCTIONS 471
SECTION 2 HYDRAULICS AND PNEUMATICS 473
CHAPTER 15 4 000 HOURS SERVICE AND CHECKS 475
SECTION 1 DRIVE TRAIN 475
REPLACE FAN BELT 475
SECTION 2 HYDRAULICS AND PNEUMATICS 477
INTRODUCTION 477
SERVICE INSTRUCTIONS 477
CHAPTER 16 AS REQUIRED SERVICE 479
SECTION 1 ENGINE 479
INTRODUCTION 479
SERVICE INSTRUCTIONS 479
SECTION 2 CAB AND LUBRICATION 483
CLEAN AIR CONDITIONING FILTERS 483
GREASE HINGES 483
CHAPTER 17 MISCELLANEOUS SERVICE AND CHECKS 485
SECTION 1 DRIVE TRAIN 485
INTRODUCTION 485
SERVICE INSTRUCTIONS 485
ENGINE 485
WHEELS 485
SECTION 2 ELECTRICAL 487
USING BATTERY CHARGER 487
ADJUST HEADLIGHTS 489
SECTION 3 OPERATIONAL CHECKOUT 493
OPERATIONAL CHECK-OUT 493
CHAPTER 18 TROUBLE SHOOTING 501
SECTION 1 SYMPTOMS AND REMEDIES 501
INTRODUCTION 501
CHAPTER 19 APPENDIX 513
REVISION 0 43
TABLE OF CONTENTS
OBW Functional Description – ADT Mk IV
001-4002-00 513
HYDRAULIC FAN COOLER FUNCTIONAL DESCRIPTION – ADT MK IV
001-4003-02 516
TABLE OF CONTENTS 516
1 INTRODUCTION 516
2 CHASSIS CONTROL UNIT SOFTWARE REQUIREMENTS 516
CCU2 HEADLIGHT LOGIC AND CONTROL
001-4004-00 519
1 INTRODUCTION 519
2 HEADLIGHT LOGIC AND CONTROL 519
CCU2 WIPER CONTROL LOGIC
001-4005-00 521
1 INTRODUCTION 521
2 WIPER CONTROL LOGIC AND TIMING 521
AIR-CONDITIONING CONTROL LOGIC
001-4006-00 523
1 INTRODUCTION 523
2 INPUTS/OUTPUTS 523
BIN CONTROL LOGIC
001-4007-00 525
1 INTRODUCTION 525
2 BIN CONTROL LOGIC 525
PR001_PARK BRAKE FUNCTION 529
INTRODUCTION 529
VIDEO PREVIEW OF THE MANUAL:
IMAGES PREVIEW OF THE MANUAL: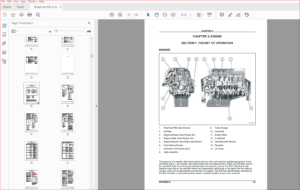 PLEASE NOTE:
This is the SAME exact manual used by your dealers to fix your vehicle.
The same can be yours in the next 2-3 mins as you will be directed to the download page immediately after paying for the manual.
Any queries / doubts regarding your purchase, please feel free to contact [email protected]