Yale A860 MC 10-12 Service Manual – PDF DOWNLOAD
FILE DETAILS:
Yale A860 MC 10-12 Service Manual – PDF DOWNLOAD
Size: 4.03MB
Pages :83
Format: PDF
Language: English
Brand: Yale
DESCRIPTION:
Yale A860 MC 10-12 Service Manual – PDF DOWNLOAD
REDUCTION GEAR SERIES HFK 100 – 200, 400 – 600 SERIES GR 92 – 96 – 97
Never do any cleaning, lubricating or servicing with the battery connected. Do not wear rings, watches, jewellery, loose clothing such as scarves, unbuttoned or unzipped jackets or shirts that could get caught up in moving parts. Operators should wear approved safety clothing: hard hat, non-slip footwear, gloves, safety glasses, etc.. Do not use petrol, diesel fuel or other flammable liquids as detergents: use instead nonflammable, non-toxic commercial solvents. Do not smoke, use naked flames or cause any sparks nearby when handling easily flammable materials.
If working outside the workshop, park the truck preferably on the level and immobilize it. If working on a slope is inevitable, chock the wheels to prevent the machine moving and transfer it to a level area as soon as it is safe to do so. Disconnect the batteries and label all the controls to warn of the work in progress. Immobilize the machine and all equipment that has to be lifted. When towing, use solely the prescribed points of connection and make sure the pins and/or bolts are firmly secured before starting to pull. Lift and handle all heavy parts with lifting equipment of suitable capacity.
Use the lifting eyes provided. Be careful of people close to the load to lift. Do not get chains or metal ropes tangled up. Do not trust damaged chains and ropes (kinked, etc.): do not use them for lifting or pulling. Always wear safety gloves when handling ropes and chains. Handle all parts carefully, do not put your hands or fingers between one part and another. Wear type-approved accident-prevention equipment such as safety glasses, gloves and footwear. The area where maintenance work is performed must be kept clean and dry. Immediately remove any puddles of water or oil spills.
Do not pile up greasy or oily rags: they constitute a serious fire risk. Always store these materials in a closed metal container. Do not carry out any servicing on the machine with people at the controls, unless they are qualified operators helping in the work to be done. When using compressed air to clean parts, protect yourself with goggles that have side guards. Welding When welding, always wear the prescribed safety gear: welding goggles, helmet, overalls, gloves and footwear. Welding goggles should also be worn by anyone working in the vicinity of the welding operation.
Never look at the welding arc without appropriate eye protection. Batteries When using batteries, remember that both ends of the cables must be connected to the terminals as prescribed: (+) with (+) and (-) with (-). Do not short the terminals. The gas given off during battery recharging is highly flammable. When recharging, leave the battery compartment open for better ventilation and remove the caps.
Never cause sparks or allow any naked flames near the battery! Never check the battery charge level by placing metal objects across the battery terminals. Before carrying out any operations, check that no elements are short-circuiting. NOTE: THIS MANUAL IS NOT INTENDED AS A SUBSTITUTE FOR THE OPERATING AND MAINTENANCE MANUAL, BUT AS A SUPPLEMENT TO IT.
TABLE OF CONTENTS:
Yale A860 MC 10-12 Service Manual – PDF DOWNLOAD
Section: VERTICAL REDUCTION GEAR HFK 100-200-400-600
1.0 REDUCTION GEAR COMPONENTS
1.1 TABLE OF REDUCTION GEAR COMPONENTS
1.2 GENERAL
1.2.1 REDUCTION GEAR COMPONENTS
2.0 SERVICING PRODUCTS
2.1 CLEANING PRODUCTS
2.2 ASSEMBLY PRODUCTS
3.1 STANDARD TOOLS AND INSTRUMENTS
3.2 MEASURING INSTRUMENTS
4.0 DISASSEMBLY
4.1 INTRODUCTION
4.2 REMOVING AND DISASSEMBLY OF THE UPPER PART OF THE REDUCTION GEAR CASE
4.3 REMOVING OF THE REDUCTION GEAR COVER
4.4 REMOVING THE CROWN WHEEL AND AXLE SHAFT
4.5 REMOVING THE INNER RACE OF THE TAPER ROLLER BEARING FROM THE AXLE SHAFT AND THE CROWN
WHEEL
4.6 REMOVING THE PINION SHAFT
4.7 REMOVING OF THE TAPER ROLLER BEARING OUTER RACE FROM THE REDUCTION GEAR CASE
4.8 REMOVING OF THE THREAD GUARD
5.0 ASSEMBLY
5.1 INTRODUCTION
6.1 MEASURING PINION SHAFT ASSEMBLY CLEARANCE
6.2 PRE-ASSEMBLY OF THE REDUCTION GEAR CASE
6.3 PRE-ASSEMBLY OF THE PINION SHAFT
6.4 ASSEMBLY OF THE CROWN WHEEL BEARING INNER RACE
6.5 PRE-ASSEMBLY OF THE PINION SHAFT
6.6 INSTALLING THE PINION SHAFT IN THE REDUCTION GEAR CASE
6.7 MEASURING PINION SHAFT BEARING CLEARANCE AND ADJUSTMENT OF THE PRELOAD VALUE
6.8 INSTALLING THE AXLE SHAFT AND GEAR IN THE REDUCTION GEAR CASE
6.9 MEASUREMENT AND ADJUSTMENT OF CROWN WHEEL BACKLASH
6.10 CHECKING TOOTH CONTACT
6.11 MEASURING CLEARANCE OF THE AXLE SHAFT BEARINGS AND ADJUSTING THE BEARING PRELOAD
VALUE
6.12 FITTING THE THREAD GUARD ON THE REDUCTION GEAR CASE
6.13 FITTING THE RADIAL SHAFT SEAL IN THE REDUCTION GEAR CASE
6.14 FITTING THE COVER OF THE REDUCTION GEAR CASE
6.15 REDUCTION GEAR UPPER SECTION
7.1 ADJUSTMENT DATA
7.2 TIGHTENING TORQUES
8.0 TROUBLESHOOTING
9.0 INSTALLING THE REDUCTION GEAR ON THE TRUCK
Section: VERTICAL REDUCTION GEAR GR-96-97
1.0 SERVICING PRODUCTS
1.1 CLEANING PRODUCTS
1.2 ASSEMBLY PRODUCTS
2.0 COMPONENTS OF REDUCTION GEAR GR-96
2.1 TABLE OF REDUCTION GEAR COMPONENTS, MODEL GR-96
2.2 COMPONENTS OF REDUCTION GEAR GR-97
2.3 TABLE OF REDUCTION GEAR COMPONENTS, MODEL GR-97
3.0 TOOLS FOR DISMANTLING AND REASSEMBLING THE REDUCTION GEAR
4.0 SECTION OF COMPLETE REDUCTION GEAR GR-96 GR-97
5.0 DISMANTLING AND REASSEMBLING THE REDUCTION GEAR
6.0 ASSEMBLY
6.1 INTRODUCTION
6.2 ASSEMBLY
7.0 INSTALLING THE REDUCTION GEAR ON THE TRUCK
8.0 TROUBLESHOOTING
Section: VERTICAL REDUCTION GEAR GR-92
1.0 SERVICING PRODUCTS
1.1 CLEANING PRODUCTS
1.2 ASSEMBLY PRODUCTS
2.0 REDUCTION GEAR COMPONENTS
2.1 TABLE OF REDUCTION GEAR COMPONENTS
3.1 SPECIAL TOOLS FOR FITTING COMPONENTS
3.2 REDUCTION GEAR SECURED TO TOOL FOR DISASSEMBLY
4.0 DISMANTLING THE REDUCTION GEAR
4.1 SPECIAL EQUIPMENT REQUIRED
4.2 STANDARD TOOLS REQUIRED
4.3 TABLE OF SCREW AND NUT TIGHTENING TORQUES
5.0 ASSEMBLY OF COMPONENTS
5.1 INTRODUCTION
5.2 FITTING THE PINION TAPER ROLLER BEARINGS OUTER RACES
5.3 FITTING THE TAPER ROLLER BEARING TO THE PINION
5.4 FITTING THE TAPER ROLLER BEARING ON THE CYLINDRICAL CROWN WEEL AND ASSEMBLY OF PINION
AND CROWN WHEEL
5.5 FITTING THE WEEL STUDS TO THE AXLE SHAFT
5.6 FITTING THE TAPER ROLLER BEARINGS ON THE BEVEL CROWN WHEELFITTING THE TAPER ROLLER
BEARINGS ON THE FLANGE
5.7 FITTING THE FLANGE AND BEVEL CROWN WHEEL TO THE AXLE SHAFT
5.8 FITTING THE STEERING THRUST BEARING, COMPLETE ASSEMBLY OF THE REDUCTION GEAR
6.0 INSTALLING THE REDUCTION GEAR ON THE TRUCK
6.1 FILLING THE REDUCTION GEAR WITH OIL
7.0 TROUBLESHOOTING
VIDEO PREVIEW OF THE MANUAL:
IMAGES PREVIEW OF THE MANUAL: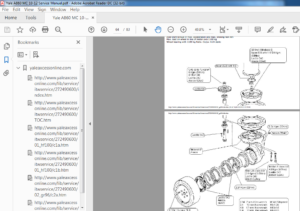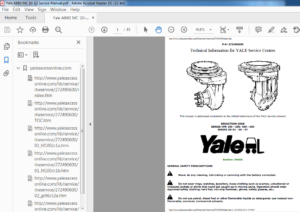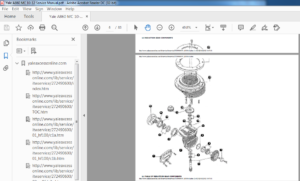 PLEASE NOTE:
This is the SAME MANUAL used by the dealerships to diagnose your vehicle
No waiting for couriers / posts as this is a PDF manual and you can download it within 2 minutes time once you make the payment.
Your payment is all safe and the delivery of the manual is INSTANT – You will be taken to the DOWNLOAD PAGE.
So have no hesitations whatsoever and write to us about any queries you may have : heydownloadss @gmail.com