1983-1986 Yamaha YTM YFM200 & YTM225 Service Manual
DESCRIPTION:
1983-1986 Yamaha YTM YFM200 & YTM225 Service Manual
FOREWORD:
Troubleshooting, tune-up. maintenance and repair are not difficult, if you know what tools and equipment to use and what to do. Anyone of average intelligence and with some mechanical ability can perform most of the procedures in this manual. This manual is written simply and clearly enough for owners who have never worked on a motorcycle, but is complete enough for use by experienced mechanics. Some of the procedures require the use of special tools.
Using an inferior substitute fora special tool is not recommended as it can be dangerous to you and may damage the part. Where possible, we have devised suitable special tools that can be fabricated in your garage or by a machinist or purchaser! at motorcycle or tool stores. Metric and U.S. standards are used throughout this book. Metric to U.S. conversion is given in Table l. MANUAL ORGANIZATION This chapter provides general information and discusses equipment and tools useful for repair, maintenance and troubleshooting.
Chapter Two provides methods and suggestions for quick and accurate diagnosis and repair of problems. Troubleshooting procedures discuss typical symptoms and logical methods to pinpoint the trouble. Chapter Three explains all periodic lubrication and routine maintenance necessary to keep your Yamaha operating well. Chapter Three also includes recommended tune-up procedures. eliminating the need to constantly consult other chapters on the various assemblies.
Subsequent chapters describe specific systems such as the engine, clutch. transmission, fuel. exhaust. suspension, steering and brakes. Each chapter provides disassembly. repair, and assembly procedures in simple step-by-step form. If a repair is impractical for a home mechanic. it is so indicated. It is usually faster and less expensive to take such repairs to a dealer or competent repair shop. Specifications concerning a particular system are included at the end of the appropriate chapter.
TABLE OF CONTENTS:
1983-1986 Yamaha YTM YFM200 & YTM225 Service Manual 
General Information
Troubleshooting
Lubrication, Maintenance And Tune-up
Engine
Clutch And Transmission
Fuel And Exhaust Systems
Electrical System
Front Suspension And Steering (YTMZOO And YTM225)
Front Suspension And Steering (YFM200)
Rear Suspension And Final Drive
Brakes
Index
Wiring Diagrams
VIDEO PREVIEW OF THE MANUAL:
IMAGES PREVIEW OF THE MANUAL: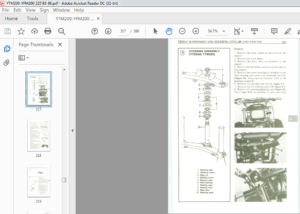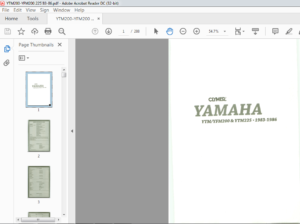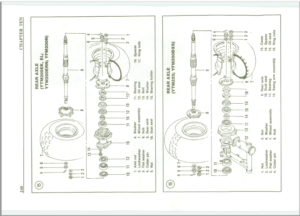 PLEASE NOTE:
This is the SAME manual used by the dealers to troubleshoot any faults in your vehicle. This can be yours in 2 minutes after the payment is made.
Contact us at [email protected] should you have any queries before your purchase or that you need any other service / repair / parts operators manual.