Cat Continuous Miner Cervis Control System Operation Manual – PDF DOWNLOAD
IMAGES PREVIEW OF THE MANUAL: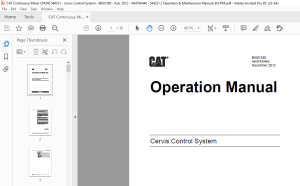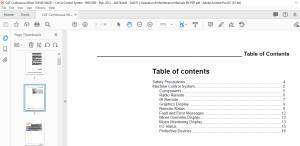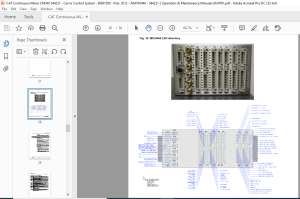 DESCRIPTION:
Cat Continuous Miner Cervis Control System Operation Manual – PDF DOWNLOAD
This manual is intended to provide GENERAL product information. The illustrations, descriptions and procedures contained in this publication apply only to THIS machine. Caterpillar reserves the right to revise models and designs without prior notice. This machine was manufactured under the guidelines, procedures and requirements of the appropriate government regulatory agencies. At the completion of the manufacturing process, this unit was issued the appropriate approval numbers and nameplates indicating it met the technical requirements of these regulatory agencies.
Any change to the design or structure of this unit, without the consent of Caterpillar and these regulatory agencies, or any repair or replacement of parts contrary to the instructions, may invalidate these approvals and render this unit unsafe to operate. Strict compliance with all laws, regulations and practices regarding the safe operation and maintenance of underground mining equipment and strict adherence to the instructions in this manual is necessary for the personal safety of those working on or around this unit.
While this manual attempts to anticipate the most important operations and maintenance needs for this unit, unforeseen circumstances may arise that have not been addressed in this manual. If any concerns or questions arise, please contact your service representative immediately.
This work contains information protected under trade secret and other intellectual property laws, and is protected under the U. S. Copyright Act of 1976, as amended. This work is provided under license and the license is non-transferable. Distribution and access is limited only to authorized personnel. Disclosure, reproduction, distribution or unauthorized use may be a violation of federal and state laws and may subject the unauthorized user to criminal liability.
TABLE OF CONTENTS:
Cat Continuous Miner Cervis Control System Operation Manual – PDF DOWNLOAD
Safety Precautions 4
Machine Control System 5
Components 5
Radio Remote 6
IR Remote 7
Graphics Display 9
Remote Status 9
Fault and Error Messages 12
Miner Overview Display 13
Motor Monitoring Display 13
I/O Status 15
Protective Devices 16
VIDEO PREVIEW OF THE MANUAL:
PLEASE NOTE:
This is the SAME exact manual used by your dealers to fix your vehicle.
The same can be yours in the next 2-3 mins as you will be directed to the download page immediately after paying for the manual.
Any queries / doubts regarding your purchase, please feel free to contact heydownloadss@gmail.com
S.V