Daewoo Doosan 1760XL DSL802 Skid Steer Loader Operation & Maintenance Manual – PDF DOWNLOAD
DESCRIPTION:
Daewoo Doosan 1760XL DSL802 Skid Steer Loader Operation & Maintenance Manual – PDF DOWNLOAD
Skid Steer Loader
1760XL DSL802
FOREWORD
• This manual explains the safety rules, lubrication, testing and controls to operate and maintain the DAEWOO Skid Steer Loader for safe and optimal performance.
• The operator should be familiar with all of the contents of this manual before starting the vehicle to insure maximum performance, safety and economy.
• Descriptions explain the testing, starting, operation, and stop procedures in detail.
• To maintain the vehicle in top condition, the operator should periodically check the vehicle in accordance with the service schedule.
• The periodic maintenance intervals in this manual are based on the service hour meter.

 OWNER/OPERATOR SAFETY OVERVIEW :
 Safety Message for Owners and Operators Your DAEWOO equipment has been designed with the safety of the persons who will operate and service it in mind.
However, our care in designing this equipment does not guarantee that it will be used in a safe manner. Safe operating practice is where your responsibility and the responsible actions of the persons who operate this equipment take over.
Owner/Employer Responsibility :
Both the Occupational Safety and Health Act (OSHA) and the American National Standards Institute (ANSI) make you , the employer, responsible for providing formal training and a safe workplace environment for the use of this equipment.
Your responsibility – 1 – also includes establishing daily inspections and scheduled maintenance practices to ensure the equipment's ongoing safe operating condition. The manual you are reading now is intended to help you meet your responsibilities.
It identifies warning labels on the equipment and explains what they mean. It describes some of the general and specific hazards to be aware of when operating the equipment. It also offers some suggestions for establishing workplace rules and operator training programs.
As the owner/employer, you also have the responsibility to be certain that the equipment you have placed into service is capable of doing its intended job. This includes matching equipment design to working conditions, capacity to the size of loads it wi ll be handling, and selecting suitable attachments and options.
This section of the manual discusses these issues as well. At the end of this overview, we list specific OSHA, ANSI , and other published resources you can consult for ways to help you comply with safety requirements for the use of this equipment in your workplace.
TABLE OF CONTENTS:
Daewoo Doosan 1760XL DSL802 Skid Steer Loader Operation & Maintenance Manual – PDF DOWNLOAD
1.0. OWNER/OPERATOR SAFETY OVERVIEW
1 .1 . Safety Message for Owners and Operators ….. … …… …… … …. …… …… .. ……… .. ……… ……… …. …… …. …… 1
1 .1.1. Owner/Employer Responsibility …. ……….. … …….. …. ….. …….. …. ….. …. …… …….. …. ….. …. .. .. ….. …. 1
1.1.2. Operator Responsibility ….. …… ……… ………… … ……. …… ….. …. ….. …. …………. … .. ……………. ….. ….. 2
1.2. Maintaining a Safe Workplace .. …….. .. … ……… .. ………. …. ………. .. …… … .. …. …………. …. … … … … …. … ……… 3
1 .3. Matching the Machine to the Job ……. .. …… .. ….. …….. …………. …… .. ………….. …. .. …….. ……. …. …. …… … .. .4
1.3.1. Warning Signal Options …… … … .. … ….. …… ….. .. …. .. …… … …………… …… .. … …. ……… ….. .. … ……….. 4
1.3.2. Modifications …… ………. ….. … .. ….. ………. …. ….. … …….. ….. ….. …….. ……. …. ………… ………. ………. …. 4
1.4. Maintenance Practices … .. ………. … ……….. .. …. … ……… .. … .. ….. .. …. …… …. … …….. ….. ….. …………………….. 5
1.5. Operator Safety Training ……… ….. …. .. .. … …….. … … …. … .. .. …. .. .. ………… …. …. …………………….. .. ………… .. 5
1.5.1 . Formal Training .. ………. .. ….. …. ……… .. .. …… …. …… … ……… … ……. … …… ……… ….. .. … …. …………. … 5
1.5.2. Inspection Training … …… ………….. .. .. ………… ……….. … …….. …….. .. …… …. … .. ….. ……… …. .. …. .. …. 6
1.5.3. Training Program Development … …….. .. … ………… .. …….. … ….. ….. …. .. .. ….. … … …….. .. …. … …… … 6
1.5.4. Practical Training ….. ……… ………………….. …… ……… … … …… … … … … … ….. …. …… … …… …. .. ….. ….. 7
1.5.5. Recognition … ………… .. …. ….. …. ….. ….. …. ……………… … … ……… ….. … ……. …. .. …. …….. …. … .. … …… 7
1.6. Information Resources for Operation, Maintenance, and Safety …. … … ……. .. … . ……….. …. …………. …… 7
2.0. SAFETY INFORMATION
2.1. Safe Operating Practices ….. ….. .. …. .. …. .. ………. …. ….. …. …. … …… .. ….. …. ……………. .. .. ….. …….. ….. …. ……. 9
2.2. Rated Operating Load Plate ……….. .. .. …. … …………… ….. ….. …… ……. … … ….. …. …………………… ….. …….. 11
2.3. Safety Warning Label Locations and Descriptions ……………….. ….. …….. …. ….. .. .. …………….. …. ……… . 12
2.3.1. Label Locations .. …. ….. …… .. …. .. … … ….. …….. ……… …. …… …….. .. ………. .. … .. .. …. .. … ……… ….. ….. 12
2.3.2. Label Descriptions ……. … … …… …… …… …… .. ……… … … .. ….. …. … .. .. … ……… … … … ….. ……… ……… 13
2.4. General Safety and Hazard Information .. … ….. …. .. ……. …… …. …… .. .. ……. ……. ….. …….. …… ……………. .. 17
cont. 2.0 SAFETY INFORMATION
2.4.1. Unauthorized Modification .. …….. .. .. .. …….. … ………… …. … …… .. .. …. ………. …….. ….. …….. ….. ….. 17
2.4.2. Clothing and Personal Protective Items ………. ……. .. … … .. …. ………. …. …. ……… … .. .. .. ……. …….. 17
2.4.3. Mounting and Dismounting ……. ….. … ……. ………. …… …. ……….. …. .. … ……. ….. ……… ………….. ….. 18
2.4.4. Fire Prevention and Hazardous Fluids and Vapors .. …. .. ………. …. .. … ………… … .. ……….. ……… 19
2.5. Operating Safety ………. .. ………. ….. .. … … …. ……… ….. …….. …… …….. ……… … ……………… …. …….. .. …. ……. 20
2.5.1. Work Site Safety …….. ……. … ……… …… …… …….. …………. …….. … … .. .. ……… …. … …. ………. .. …. …. 20
2.5.2. Operator's Cab ……… …. ……. … ……….. …….. …… … … ……… … ….. …….. ………… …. …. …… .. ……. .. .. .. 21
2.5.3. Safe Operating Practices ….. … ….. .. ….. ….. ……… ….. .. ……. …. .. ………. .. …… … ……… …….. … ….. .. .. 21
2.5.4. Ventilation for Enclosed Areas … ….. ……. ………………. ….. ….. ………… …. …… … …………… … … … … 22
2.5.5. Flammable and Explosive Atmospheres …… ……… .. … ……………….. …….. … … …… ….. …….. …….. 22
2.5.6. Precautions for Mirrors, Windows, and Lights ….. ………………… …….. ……….. ….. …….. … ……….. 23
2.5.7. Ensuring Visibility ……………….. …. ………………. … … … .. ……. ….. ………… … .. … …. ………….. ………… 23
2.5.8. Traveling in Reverse, Safe Working Zone ….. ……. .. .. …… .. … ….. ……. ……. ….. …. …. …. ….. .. .. .. …. 24
2.5.9. Avoiding High-Voltage Cables ………. … ………. ……….. .. …. .. ….. …………… …. ….. .. .. …. .. ….. ………… 24
2.5.10. Operating on Snow ….. …. …… ………………….. .. ……………… …… …. …. .. … .. .. ……………………….. …. 25
2.5.11. Working on Loose Ground or Uneven Surfaces … … ………………… ….. …… ……… …. …. ……. …….. 25
2.5.12. Preventing Crushing or Cutting ………………………. .. ….. …….. …. …. .. ………… …… ….. … ……… …….. 26
2.5.13. Parking ………………….. …. .. …. …………… …… ……. ……. ……. .. ……… ……….. …….. …. ……. …… ………. 26
2.5.14. Precautions for Attachments ………………. .. …… … ……… .. .. … .. …. … … .. …………. .. ………. ……… .. … . 27
2.5.15. Precautions for Loading and Emptying the Bucket.. … …… .. .. …………………… ………. … .. ……… … 27
2.5.16. Precautions for Stopping the engine …… …………. .. ….. .. ….. .. …… ……. …….. .. .. … … .. …… ……… … .. 28
2.6. Maintenance Safety ………….. …… ………. …………. ….. .. .. ……. ……….. …. .. .. .. …. ……….. ………………… ….. ….. 29
2.6.1. Periodic Maintenance ……. …… ….. …………………… …… ……….. …… …. ……. .. ……. .. ….. … … …. … ….. 29
2.6.2. Precautions for High Temperature Operations .. ……. …. .. …….. ….. …. .. ………… … …. ………………. 30
2.6.3. Maintaining and Inspecting Hydraulic Equipment ………………… ….. ….. ….. .. … … ….. …… …………. 31
cont. 2.0 SAFETY INFORMATION
2.6.4. Precautions for High Pressure Oil .. ………. … .. … …… …………. … ….. ….. ……… ….. …………. .. .. …….. 32
2.6.5. Battery Hazard Precautions ….. ………… ……….. ….. …… ……… ….. … … … … ……………………. .. ….. .. . 33
2.6.6. Waste Material Precautions .. ….. ….. .. …………. .. ……….. … …… … ……… ………… .. … .. … … …… ….. … 34
2.6.7. Rotating Fans and Belts …… … …………… .. ……. ….. ……. ….. …. ……. …. …………………. … .. ………. …. 34
2.6.8. Tire Maintenance ….. ….. ……………….. …….. … …. .. .. …. … .. ……. ….. …. .. .. …… … ………….. ….. … … …… 35
3.0. SERIAL NUMBER LOCATIONS
3.1 . Vehicle Serial Number ……….. ……… . …….. .. …. …. …………………. ………………………… … …. ………………….. 36
3.2. Engine Serial Number … …. ……… …. …. ….. …… …….. …………. …… … …. … .. ….. .. ………. … .. ….. …… ………….. 36
4.0. MACHINE COMPONENTS
4.1. Identification of Machine Parts …. … …… …………….. ….. … .. ……… …… .. .. … .. ………….. ….. ……. ……. …… .. … 37
5.0. CONTROLS AND INSTRUMENTS
5.1. Instrument Panel …….. … ….. …….. … .. ………. … …….. ….. … .. …. ….. ……. … … ….. … …… .. ….. .. ….. …. … ….. …….. 39
5.2. Controls … ……… … …. ……… ……………………… …. …… ……. ……… ………… .. ….. … .. ……. … …. …. … ….. .. ……. . .41
5.2 .1. Drive Control Lever …. …… .. ….. …….. …. ….. … …. …… …. …. ….. …. ……… ………. … …………….. .. .. …. .41
5.2.2. Pedals ……………….. …… … .. ………… …. .. …. .. .. …. …. ……………. … … .. …. ……… …. …. ….. …. ……… … .44
5.2.3. Boom Pedal …………. ….. …. ……… ….. ……………… …. …. ………….. …. …………….. … …… …. ……… … .44
5.2.4. Attachment Pedal ….. …….. ……… ………….. ….. ………. … .. ….. … …… .. ….. …. ….. …….. …….. ….. …. …. .45
5.2.5. Bucket Pedal … ……….. .. … ………… ………………… …. .. …. … ……… … ……… .. … .. … ……. … ……….. …. .45
5.2.6. Engine Control & Auxiliary hydraulic attachment bleed off … ………. …………….. .. … …. ……. ….. .46
5.2.7. Seat Bar …… ………… …………………….. ………. …. …… …………….. ………. …. .. .. .. … .. .. ……. …… … ….. .47
6.0. OPERATING INSTRUCTIONS
6.1. Inspection Before Boarding …. ………. … … … … .. .. …. … …. ….. .. .. …. ….. ………. … ….. ………….. … … .. …. …….. .48
6.2. Boarding the Loader …… …………… .. …. ….. …. .. …… … …… ………… …. ….. … …. .. ……. …… …………. … ……….. .48
6.3. Starting ……….. .. ………… …… …… … .. …… … …. …. ….. … …. … ………… … … … … ……… ……. …. ….. …….. … … … ….. .49
6.4. Traveling and Steering ….. … ……………….. .. ….. …. ……….. … .. .. …. ……….. …. … …… …….. …………… …. ….. … 51
6.5. Operation …….. …… …… … …….. …. ………. …. …. ……….. ……. … …. …. … …. ….. … …….. …. ……… .. …. …. …. …….. 52
6.6. Traveling on a Slope, Parking .. ……………. ……. ….. …… .. …… ….. ……. … …… …. .. …. … .. .. ……… …….. ……… 55
6.7. Towing Procedures … ……. ……….. ……. ……….. ….. ….. .. .. ….. ….. …….. .. …… .. .. … …….. ….. ……. .. .. … …. … …. .. 56
6.8. Lifting …….. .. .. …. …………. … ……………… … ………… …. …. … …. ……. .. …. ….. .. … …………… … …. …….. …. …. .. … 57
6.9. Transportation …….. …….. ……….. ….. ….. .. …… ….. …………….. .. … ……. … ….. ……. … …….. …. … ……… … …. … … 58
6.10. Bucket and Attachments .. .. …… …….. .. … .. …… ……. .. ………. .. .. … ……………… …. .. … .. ………….. .. .. … .. ……… 59
6.11 . Boom Lock Operation …. ….. .. …….. … … … …. .. ………….. .. .. …… ……………… .. .. …. …….. .. ………………………. 62
7.0. PERIODIC MAINTENANCE
7.1. Safety Warnings …………………. …… …. ……. …. …. .. … …. ….. .. …… …. …. ….. ………. .. …. .. .. …………. … … … …… .. 64
7.2. Access to Items Requiring Service …………. …………. …… … …. .. ……………………… …. .. ……….. …… … …. …. 65
7.2.1. Rear door and engine hood … .. ………. ………. …. … .. ……………………… ………….. ………………….. .. 65
7.2.2. Canopy Tilting ……….. .. … … …. … … …. …. …. ……. …. ……… …. … …….. … …. …… … … .. … … ………………. 66
7.3. Daily Pre/Post Start Checks …. … .. …. …….. …. …… ….. ……. ….. .. …. .. …. …… ……….. …. ….. .. .. .. … .. …… …. .. … 67
7.3.1. Pre-Start Checks ……. .. …. ………………. ….. ……… ………. …. … ……. ……………. ….. .. .. .. ……. …. …. … … 67
7.3.2. After Starting-Before Operation … … .. … .. .. …….. ….. .. ………… …… …… …….. … .. …. .. … … .. … …….. …. 68
7.4. Service Schedule …….. ….. .. ….. …… .. .. ….. .. …… ……………. ……… ………… ….. …. … … …….. …. ….. … … ………. 69
7.5. Lubrication Points …… …. ……….. …. … .. … .. ……… .. … ……… ….. …. ….. .. … ….. ….. .. …. .. .. ………. …. ……. ………. 71
7.6. Operator Restraint Lubrication and M_aintenance …… … .. ……………….. ….. ………….. ……. … ….. …… …… … 75
7.6.1. Lubrication …….. ….. … .. …. ………. ………………. ….. …… .. ……. .. … … .. …… .. ….. …. …. ……………. … ….. 76
7.6.2. Function …… …….. .. .. …. .. ………………. .. .. ……… …….. …… ….. ….. ……… .. ….. …. …. …. … …….. … … …. 76
cont. 7.0 PERIODIC MAINTENANCE
7.7. Engine Lubrication .. ……. … …. .. ……….. ….. … ……. ……. … … … .. …. …….. .. .. … ………. …………… .. .. .. .. .. … … … 76
7.7.1. General … …………….. …… … …… …. … … …. .. …… … …. … .. ……… ……. .. …. ………. .. .. .. … ……… ……. …. .. 77
7.7.2. Draining Engine Oil … .. ….. … …… … …. … …….. …… … … .. …… …… ………. .. …. ….. … … ………. .. ….. …. … 77
7.7.3. Remove/Replace Engine Oil Filter ….. .. .. …… …….. ……. …. ……….. …… …. …………… ….. .. …………. 77
7.8. Engine Cooling System …….. .. .. …… ……………. … …. … ………. … .. ….. …. … …. …. .. … ……….. ….. ……. … …. …… 78
7.9. Fan Belt … .. …. .. … … ….. … ….. …. ….. ….. …………………….. ……. ….. .. .. ………. …. .. …….. … .. ….. ……. ……. … … …. 79
7.9.1. Belt Tension … … ………. … .. …. …… ……. …… … ……… … .. …. … .. …. … ….. ….. …. ……. ……………. .. .. …….. 79
7.9.2. Adjustment. …. … …… ……… …. …………. … …. .. … ….. … … ….. … ….. …. ….. ………… ….. ……….. … …… …… 79
7.1 O. Two Stage Air Filter … … … …………. .. .. …….. ……. … …. …. …… …. … ……… .. …. …… ……. …….. … … …. .. …… .. ….. 80
7.10.1. Removal-Primary Element …. …. … … ………. … …. .. … .. …… …….. .. …. ….. … ….. …….. .. .. … .. .. ……… … 80
7.10.2. Removal-Secondary Element … … …. .. …. … .. …….. ….. ……. …….. ………. ……. ….. ….. ……. ……. …… .. 81
7.10.3. Installation ……. …. .. ………….. … … ……. …. ……… …… .. …… …. …… ……. ….. … .. … .. ………. .. .. … .. .. …….. 81
7 .11. Spark Arrestor …… …… … .. ……. ……… .. .. …. …. … …….. …….. …… …… …… .. … … .. …. …….. ….. ……… …. …….. …. 81
7.11.1. General … …. …. .. … …. … …… … … …… … …… … .. …………. … …… … … … .. … .. ……. …. ….. …………….. .. .. .. 81
7.11.2. Maintenance …. .. .. … … … …. ……… …… .. ….. …. …… …… ………. … .. .. …….. ………. …. …… ……………… .. 82
7.12. Battery …… ……. …….. .. …….. … … ……….. .. …. … .. …. …….. .. …….. …. …. …… ……. … … ….. …. .. ….. .. …. …… … .. ….. 82
7.12.1. Remove and Install …. … ……. ….. … … …… …. …… …… …. .. …. …….. …. … …. …… … ………… …. ……. …… 82
7.12.2. Jump Starting the Loader …… … …….. …. …. …. …… … … .. ………. ….. .. … ….. … .. ……. … ………….. .. ….. 83
7.13. Priming The Fuel System … … ….. ….. .. … ……. …. …. …….. … … ….. …. … …. ….. …. .. … ….. …. .. … … .. ……….. .. …. 84
7.13.1. Bleeding the Fuel System … …….. … ………….. .. … ………… ….. …. …….. .. …. ….. .. .. …… …. ….. …….. …. 84
7.13.2. Draining the Water From the Fuel Fillter ………….. ………. … … .. ….. ….. .. … ……….. …….. … .. … .. … … 85
7.13.3. Fuel Tank Drain ……. … …. ………. …….. … .. …. … .. .. …. … ……. .. … ….. ….. … …….. ………. ……….. …. … .. .. 85
7 .14. Hydraulic System Maintenance …. .. …. ….. ….. … .. .. … .. .. .. .. ….. .. … …….. .. .. … … …….. ……. …. …… …… ……….. 86
7.14.1. Oil Level Indicator ….. … ….. ……… … …. ……… …….. .. .. …. ……. .. … … … .. .. .. … .. .. … … … …… .. … .. ……… 86
7.14.2. Filter Replacement …….. ….. …. ……. .. … …………… …. … … .. …. …. …….. .. …. .. …… ….. .. .. … ……… …… . 87
7.14.3. Hydraulic Fluid Replacement .. …… ……. …. … …….. …… …. …. … …. ….. .. ….. .. ….. …. …. .. .. …. …. ……. 87
cont. 7.0 PERIODIC MAINTENANCE
7.15. Chain Case Drain and Refill .. ……. ………… … ….. … …….. …. .. … …. .. .. .. ….. …….. ….. …… … .. ….. ….. .. .. .. …….. 88
7 .16. Parking Brake Adjustment .. …. … .. …. …. … … …….. … ……. ….. .. … .. .. … …… .. ……. .. .. .. .. .. .. …….. ….. … .. ……….. 89
7.17. Tire Maintenance ….. .. .. .. … .. .. .. … …… .. … …. ………. .. … ……….. …… .. ……… .. ……. … .. .. .. … … …………… ………. 90
7.17.1. General lnformation .. …. ….. ….. …… …. …… …… …. … … .. … .. …. .. .. …….. .. …… …. .. … .. …….. … .. ……….. 90
7.17.2. Inflation Pressures …………….. .. ………….. .. …… .. .. … … .. … … ……………………. .. .. .. …. …… ….. ……….. 91
7.17.3. Installation and Removal ….. …… …… … …… .. … ………….. ……….. .. … …. .. .. ……. ….. … .. … … ………….. 91
8.0. DIMENSIONAL & PERFORMANCE SPECIFICATION
8.1. Dimensional Specifications …………………………………….. …. .. … … .. …… …. .. .. .. …………. .. …………………… 92
8.2. Operational Specification (Per SAE J732 Feb 80) …….. ……… ……………….. .. .. .. .. .. .. …… .. .. ………………. 94
8.2.1. Performance …………. …… …. ….. .. …………………………………………………… ……………… …. ………… 94
8.2.2. Power Unit …… ….. …………….. .. …….. … …… … .. .. .. ………………………………………….. …. .. …….. ….. … 94
8.2.3. Final Drive Components ………… …. .. …. .. …. …………………………………………………… .. … .. ……….. 95
8.2.4. Hydrostatic Transmission Pump …….. ………. .. …… … .. ….. …. …. .. .. ……….. …. …………… .. …… …….. 95
8.2.5. Hydraulic System ………………….. …….. … .. …….. .. …… ……. …… ……………….. ……………. …………… 96
8.2.6. Electrical Components ….. … … .. ….. …. … …. …… … .. .. ………. …… ………………. …. …. …. …. …………… 97
8.2.7. Instrument Features ……………… …. ….. ….. .. ……. …. …………… … …………………………………………. 98
8.2.8. Seat … … … .. …. ….. ….. … ……. .. .. … ………… .. …. …………….. .. …. ….. ……. …. …… ….. .. …………………….. 98
8.2.9. Fluid Capacities & Specifications …………………. … … … … ……….. ……… … .. … … …. …. .. .. …. .. … …… 99
• ENVIRONMENT PROTECTION SECTION …. …………………………. …. … …. .. … ………. … …. .. …….. …. … …. .. … …. 102
• WORLDWIDE NETWORK
VIDEO PREVIEW OF THE MANUAL:

IMAGES PREVIEW OF THE MANUAL: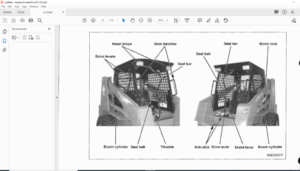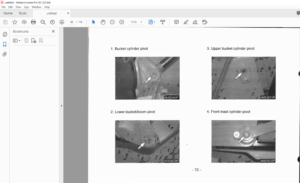 PLEASE NOTE:
This is the SAME exact manual used by your dealers to fix your vehicle.
The same can be yours in the next 2-3 mins as you will be directed to the download page immediately after paying for the manual.
Any queries / doubts regarding your purchase, please feel free to contact [email protected]
R.D